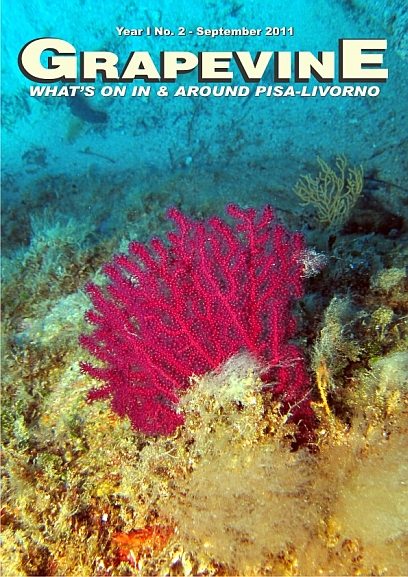 Grapevine Pisa-Livorno

Livorno's English Cemetary

3

Diving at Giglio

4

Pisan Tai Chi

6

Notices

8

Dear Readers,

For our cover photo this month we couldn't resist the cool deep-sea image contributed by artist-diver Elisabetta Bastai (see her blogspot, Openwaterbubbles). We imagine her now enjoying the waters near Port Washington, on America's Pacific Coast. Born in Modena, Italy, Elisabetta developed a love of diving at an early age. The siren song of the sea calls her on international adventures, undersea camera always at hand.

On the other hand, masses of vacationers, Italians included, are still flocking to the cities. Pisa's Piazza dei Miracoli never loses its charm, and a cool soda, beer or wine in a nearby bar tastes just that much better. Are those tourists holding up the Leaning Tower, or practicing the ancient art of Tai Chi?

On a quieter note, Sarah Thompson takes us to Livorno's historic English cemetery. Her beautifully-illustrated website Livorno Now has for some years been an English voice in the community. We thank her for this contribution to Grapevine, and hope that readers will be inspired to visit and support this historical cemetery.

Pisa-Livorno Grapevine is now launching its on-line edition, accessible through www.luccagrapevine.com (see the link at the bottom of the home page), for those readers – and advertisers – who might not find us in print. We are still on newsstands throughout the Pisa-Livorno provinces, but also on your computer at home.
Norma Jean Bishop